Your Signature
Now that you have your good looking LinkedIn profile all set up, it's time for your e-mail signature. This is the example.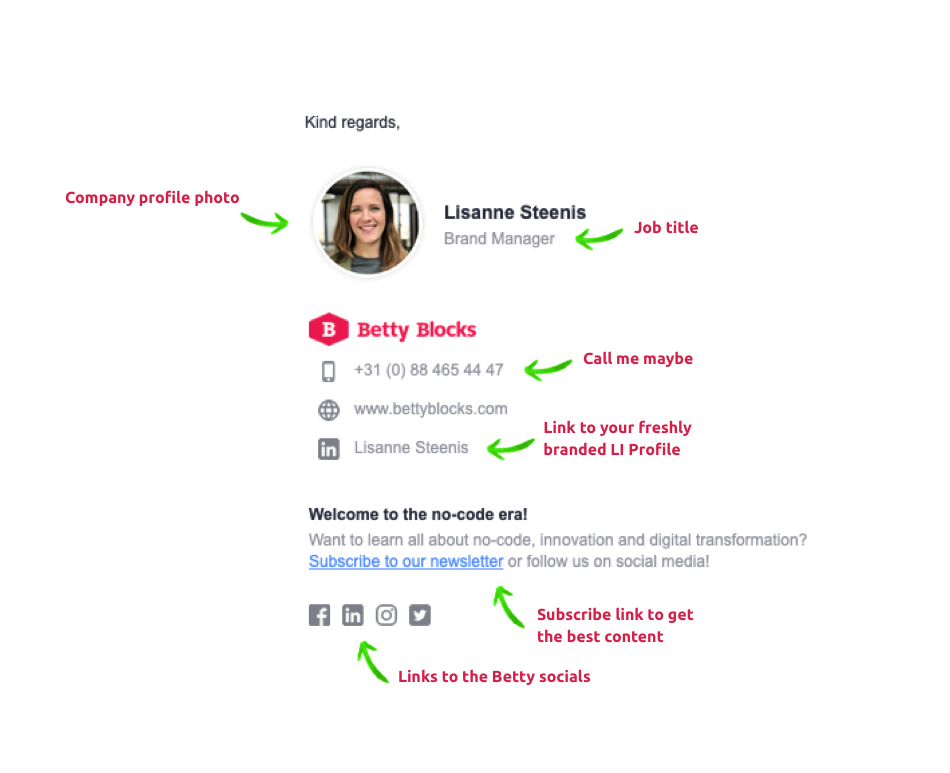 How to implement your signature in Gmail
1.
Download the HTML file from the Drive
2.
Open the HTML file in Google Chrome
3.
Type CMD⌘ + A, CMD⌘ + C and CMD⌘ + V to copy paste the signature into Gmail.

How to implement your signature in Apple Mail
Well... this is how you do it
So, all we need from you to make the signature is your phone number on where you want to be reached on. But….. The implementation of it is all your task. Luckily we made a step-by-step guide and an instruction video to make this job a piece of cake for you. Here it is:
Read carefully and do exactly as it says, then everything will be fine.
1.
Open Apple Mail (mail stamp with the bird), then hold you mouse at the top of your screen until the menu bar show up. Click on Mail → preferences → signatures. Click on the '+' to create a signature. Change the content to 'TEST'.
2.
Important: Type CMD⌘ + S and close the preferences window by clicking on the red cross.
3.
Close your Apple Mail by typing: . Do you still want to read this e-mail? (recommended) Open mail via Gmail in your internet browser.
4.
Type CMD⌘ + Space and search for Terminal.
5.
Now it's getting exciting:
Open the terminal and insert the following code:
open ~/Library/Mail/V5/MailData/Signatures/
If nothing happens, then change V5 with V6, V4, V3 or V2.
If this doesn't work either, try: Open ~/Library/
Then search voor Mail → V → MailData → Signatures
6.
Open the signature
For people who are creating a new signature it looks something like this:

7.
For people who already have a signature it looks something like this, if this is the case, first unlock your file by: Right-clicking on the file → Get info → uncheck the box shown by Locked.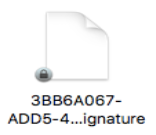 Open the file with TekstEdit. If this isn't immediately shown.
Right click on the file → Open with → other → scroll down until you find TextEdit
8.
Delete everything "Mime-Version: 1.0 (Mac OS X.........................))"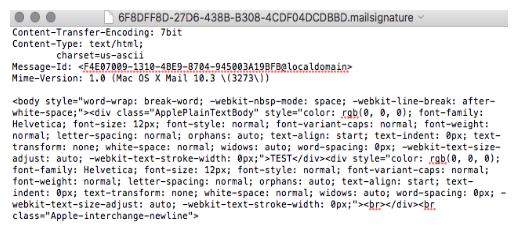 9.
The text you deleted needs to be replaced with your own HTML code (You can find this code in the following drive folder):
10.
: Save the TekstEdit by typing: CMD⌘ + S. And then close TekstEdit.
11.
Right-click on the file of the signature → Get info → Check the box that is shown by Locked. Now the signature file is linked to your account.
12.
People who are only updating their signature can skip this step.
Now you can open Apple Mail again. Open the preferences window again, and go to signatures. Drag your signature to the designated e-mail address. Then click on that e-mail address en select your signature at Choose signature to automatically add your signature when writing an e-mail.
The most important step: Send a test mail to:




to get it checked.