Univé Implements Strategic Innovation to Create a New Line of Business

Insurance companies are in the business of managing risk by sharing risks among their customers. Take Univé for example. The roots of Univé date back to 1794, they have literally hundreds of years of business tradition as one of the leading insurers in the Netherlands. Although Univé's core business is steeped in tradition, they are forward-thinking when it comes to innovation and challenging the status quo. That means shaping the future of the market by offering new services.
Accelerating Change in a Traditional Organization
The insurance sector as a whole is at a crossroads. Economic and global trends plus technological developments are shaking up the industry, and consumer expectations for a digital experience are higher than ever. By testing new ideas, Univé's Innovation Lab adds to keep moving the business forward.
The Innovation Lab at Univé was charged with developing a new business proposition to offer customers a set of new preventative services. That is, to become the kind of insurance company that firstly focuses on preventing risk and limiting damage and secondary making sure the remaining damage is covered. Let's say one house fire caused by a chimney that hadn't been cleaned causes €200,000 in damage that Univé would need to pay out. Or clogged gutters that lead to flooding or roof collapses and also cost tens of thousands to replace. If there were an application that provided regular services to prevent home disasters, public safety would certainly benefit. Not to mention, by reducing the number of claims filed, the business would save millions each year.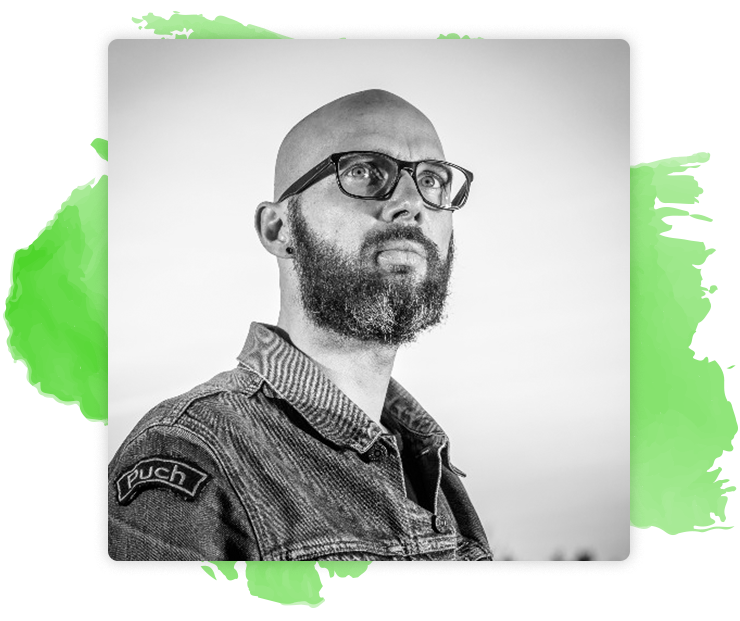 Bas Wit, Innovation Manager Univé
 If there were an application that provided regular services to prevent home disasters, public safety would certainly benefit. Not to mention, by reducing the number of claims filed, the business would save millions each year.
"
The speed of building and how little money we spend on building the system is what really draws people in. Experiments take months, but building takes days.
"
But How?
In order to execute these ideas, there were some hurdles to jump first. Outsourcing to an outside partner or buying an existing ERP solution were also not options: it would simply take too much time and, as Innovation Manager Bas Wit points out, you never get exactly what you want the first time around — which is detrimental to the experimentation process. Bas and his team at Univé's Innovation Lab needed to be able to develop solutions themselves fast and flexibly, and maintain them within their own team. If they could build prototypes at low cost to measure and validate customer behavior, they could put their ideas into action and challenge expectations of what insurance companies are capable of.
This is What They Built
What if there was a way to insure people better by helping them avoid disaster in the first place, rather than helping them fix things afterwards?
The first idea Univé tested with Betty Blocks (and the help of implementation partner Ilionx) was Veilig Wonen ("Living Safely"), an application that provides customers with subscriptions for services like chimney inspections, alarm servicing, gutter cleaning, and other services that actually prevent bigger problems down the line.
Armed with a no-code platform, the Innovation Lab wasn't just able to test intentions, as with normal mockups or prototypes: they could actually measure customer behavior by piloting a working application to validate that their members were willing to pay for these kinds of services. This allowed the Innovation Lab to demonstrate value and generate buy-in among stakeholders.
From a technical standpoint, how does an application like Veilig Wonen work? It's actually a system of smaller applications and API integrations, all built with Betty Blocks. This reduces the need for separate systems and licenses for CRMs and payment management systems, for example.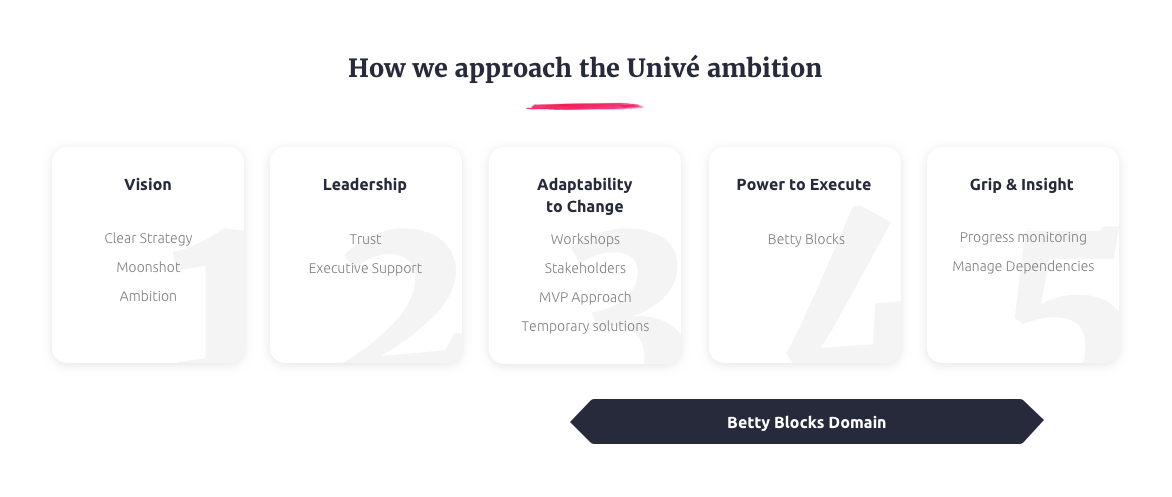 The Business of Innovation: A Whole New Company Within a Company
Having a great idea is only about 20% of the entire innovation process. Where most companies get stuck is taking the leap from idea to action. You need resources and organizational support, and for that you need to be able to demonstrate the value of the idea. With Veilig Wonen, Univé piloted the application to a sample of 10,000 members, and when they reached their target conversion rate could show directly that people would pay for the service.
The IT Department is Convinced
The Innovation Lab is making waves within Univé because they've found a way to measure customer behavior — instead of intention — before the full launch of a new product. Even the IT department sees the benefits of no-code. "Our IT department sees opportunities to become more flexible with no-code in areas where the existing IT applications offer no solutions," says Bas. "It is really difficult to find a single PaaS or SaaS that meets all of our needs, so to have one system where we can build it conform our own wishes and integrate it with the existing landscape is amazing."
Time-to-market: 2,5 months instead of 1 year. Speeding up development by 75%.
The Future of Insurance
Today, the Innovation Lab uses Betty Blocks as a way to develop, test, and launch new services for Univé customers. This not only gives them a competitive edge in the industry, but has created a unique space within the company to put an innovative mindset at the forefront. Up next is an IoT project where sensors can predict risky situations — like temperature sensors to detect farming equipment malfunctions that cause fires.
The Innovation Lab has the freedom and flexibility to develop new propositions for Univé by proving that their ideas actually work. By using Betty Blocks to do this, Univé has brought time-to-market of new applications down from a year to 2.5 months, speeding development by 75% — but more importantly, they've found a way to quantify innovation. And in doing so, they're turning insurance into a service that improves people's lives.
This project is completed by our partner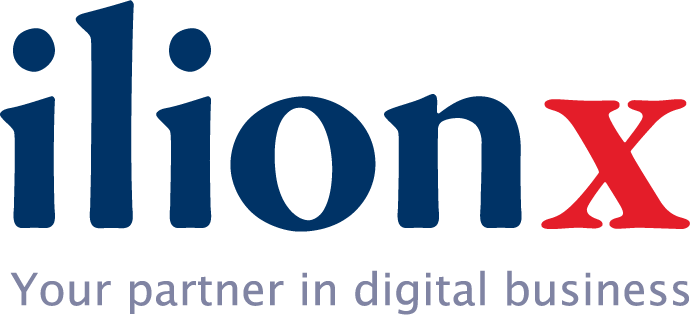 Has the Univé case got you inspired?
Find out exactly how our platform works and how it suits your business case right here: